Chancellor Rishi Sunak is to reveal the future of the government's job retention scheme later, amid growing calls to extend it.
Currently more than six million people are having up to 80% of their wages paid by the government while they are temporarily on leave from their jobs.
Mr Sunak previously warned the furlough scheme, due to end in June, was not "sustainable" at its current rate.
The government is encouraging people in England to return to work if safe.
On Monday night, it published guidance for making workplaces "Covid secure", including requiring employers to carry out risk assessments before they can reopen.
However, speaking at Monday's Downing Street daily briefing, Prime Minister Boris Johnson said a "sudden big flood" of people returning to work was not expected, describing the latest measures as "baby steps".
Labour's deputy leader Angela Rayner said the furlough scheme needed to continue and should not be reduced, insisting it had been a "lifeline" for workers and employees during the coronavirus crisis.
She told BBC Radio 4's Today programme that reducing the scheme too soon would "cost us in the long run".
'No cliff edge'
Nearly a quarter of the UK's workforce has been furloughed, with 80% of employee's wages – up to £2,500 a month – being paid by the government.
Mr Johnson said the initiative was "one of the most remarkable features of the government's response" and stressed "it is absolutely right that we should do it".
He said he did not want to steal his chancellor's thunder but added that Mr Sunak would update MPs on Tuesday.
Last week, Mr Sunak promised there would be no "cliff edge" cut-off.
Torsten Bell, chief executive of the Resolution Foundation think tank and an early advocate of the scheme, warned against it being removed too quickly and called for a "careful and gradual change" to the measure.
"Moving too quickly could spark a huge second surge in job losses at a time when unemployment already looks set to be at the highest level for a quarter of a century," he said.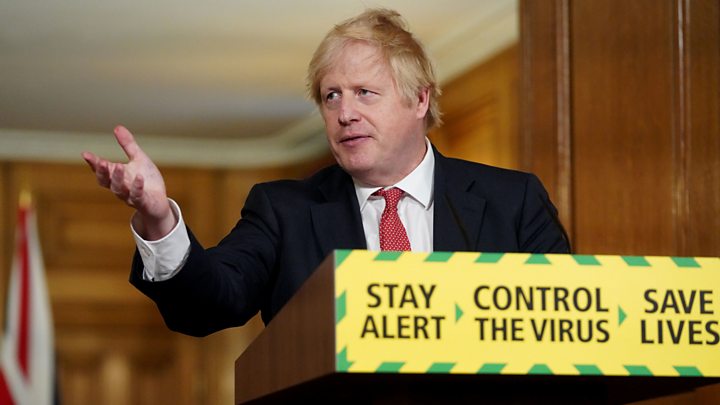 This latest development to the scheme comes as the government continues to defend its return to work message, issued in its latest coronavirus guidance for England.
Health Secretary Matt Hancock told BBC Breakfast that ministers were being "incredibly cautious" about the changes, and insisted that everyone who can work from home should continue to do so "because obviously that's the safest place to work".
Asked whether people are protected by law if they felt unsafe in the workplace, Mr Hancock said employment law had not changed but that "businesses and employees should be working together to make the best of a very difficult situation."
Mr Hancock also defended other changes to England's lockdown measures, outlined in the government's strategy document on the next steps in its coronavirus response.
Asked why people could go to garden centres but not meet a friend in their garden, standing 2m apart, Mr Hancock said that not everybody has a garden and not every garden was big enough.
He added that people who wish to meet with one other person from outside their household should only do so in public places, suggesting that a lot of people can only access their garden by going through their house – meaning they would be meeting indoors.
And, speaking on Today, Mr Hancock explained that the reason for asking people to meet with one person at a time was to avoid mass gatherings.
He said the government's decision to lift the ban on driving to beauty spots for exercise should not risk increasing the spread of the virus in such areas – as long as people socially distance when they get there.
The health secretary stressed the change was not "for people to move house or to go on holiday or to be able to stay".
Face covering advice
The Department for Transport has issued new guidance on how to make journeys safely, if people cannot work from home and have to travel for work.
It advises commuters to keep 2m apart from others "wherever possible", wear a face covering, use contactless payment and avoid the rush hour period, if people are unable to avoid using public transport.
It comes after the Department for Business, Energy and Industrial Strategy released fresh guidance for UK employers on how to implement social distancing measures, with eight separate documents published for sectors which can now reopen.
Measures could include staggered start times, one-way systems, screens between workers and increased cleaning.
TUC general secretary Frances O'Grady cautiously welcomed the new workplace guidance, but the union said ministers had to gets to grips with the provision of personal protective equipment as more workers needed it.
On Monday, the government published guidance for the public, alongside its strategy document.
The information includes new advice for people in England to wear face coverings on public transport and in some shops.
Leaders in Scotland, Wales and Northern Ireland said "stay at home" messages remained in place there – prompting Mr Johnson to defended the differing approaches between the UK nations.
The 60-page document also said:
People in England can drive to any outdoor open space in the country – but not to other UK nations whose rules should be respected
Healthy people aged 70 and over should take particular care to minimise contact with others – even if they have not been advised to shield by the NHS
Clothes should be washed regularly if people work with others outside of their household
Doors and windows should be left open in places where people from different households interact
A "rapid re-engineering of government's structures and institutions" is needed to deal with Covid-19
Figures released on Monday showed a further 210 people have died in the UK after testing positive for coronavirus, taking the total number of deaths recorded to 32,065.
After eight days of missing its goal of 100,000 tests a day, on Monday the government counted 100,490 tests on 10 May.
In other developments:
---
Are you going back to work? Email haveyoursay@bbc.co.uk.
Please include a contact number if you are willing to speak to a BBC journalist. You can also contact us in the following ways: