Since lockdown began in March, we have been updated daily with the often grim statistics about the coronavirus death toll.
The death of Scotland's first Covid victim was recorded on 13 March. In the weeks that followed, more than 4,000 people have died.
Behind the statistics were real people who left behind grieving families and friends.
These are some of the people who have lost their lives to Covid-19.

Danny Cairns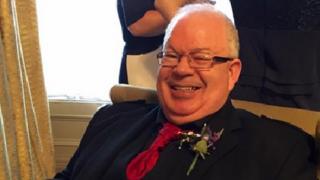 Danny Cairns was a healthy 68-year-old before he fell ill with coronavirus, according to his brother, Hugh.
When he developed a cough and sore throat at the end of March, he isolated at home in Greenock.
But within days he was so ill he had to be taken to hospital by ambulance.
In a video call from his hospital bed, his last words to his brother were: "I'm on my way out, mate".
He died on 26 March, three days after arriving in hospital.
Dougie Chambers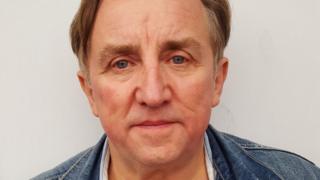 Dougie Chambers was one of several people who fell ill after the 40th birthday party of his daughter, Wendy, on 7 March.
Within days, the 66-year-old, who had an underlying health condition, went into hospital and tested positive for Covid-19.
Mr Chambers, who was from Castlemilk in Glasgow, died two weeks later, on 26 March.
Two other members of his extended family – Andy and Mary Leaman – also contracted the virus and later died.
Wendy said: "If we knew then what we know now, we wouldn't have had the party. It wouldn't have happened."
Earlier lockdown 'could have stopped 2,000 deaths'
Ian Wilson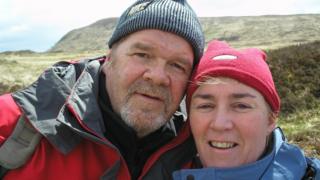 School janitor Ian Wilson was at home in Coatbridge for two weeks with a high temperature and delirium before being admitted to hospital.
Despite his worsening condition, doctors initially told his wife, Sandra, she would not be able to visit the 72-year-old who had a heart condition and diabetes.
Staff eventually granted access provided she wore protective equipment – a decision which meant she could be at her husband's side when he died on 29 March.
Although nurses were unable to comfort her with a hug due to social distancing protocols, Mrs Wilson is grateful they allowed her to be with her partner at the end.
"I was able to talk to him and just say goodbye. I've got strength from that," she said.
The impact my husband's death had on NHS staff
Robert Tarbet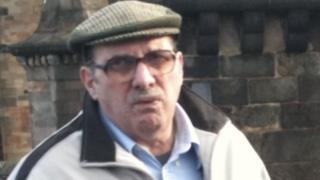 Robert Tarbet was "self-opinionated and witty", according to his daughter, Paula Karoly, but also "hardworking, loyal and beautiful".
He spent his working life as a plumber with Glasgow City Council before retiring in the early 2000s.
In his spare time, the sociable man was a mason who was a keen follower of Rangers FC. He loved country and western music and watching musicals in the theatre.
A father and a grandfather-of-three, he was being treated for cancer when he contracted coronavirus.
He died on 29 March at Royal Alexandra Hospital in Paisley, aged 76.
Mary and Andy Leaman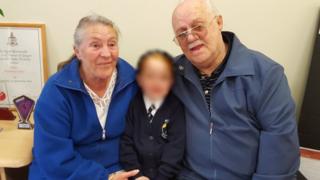 Mary and Andy Leaman began self-isolating at the end of March after falling ill with flu-like symptoms.
Their son, Andy, told the Glasgow Evening Times the couple were married 50 years and doted on their only granddaughter, nine-year-old Anna.
Mrs Leaman died at home in Castlemilk on 30 March – four days after the death of Anna's maternal grandfather, Dougie Chambers.
The schoolgirl lost her third grandparent almost three weeks later when Mr Leaman died in hospital on 19 April.
Her mother, Lynsey Chalmers, told BBC Scotland: "For a nine-year-old girl whose three grandparents were her world… why does a wee girl need to get punished like that over and over again?"
Earlier lockdown 'could have stopped 2,000 deaths'
Ryan Storrie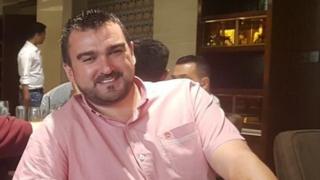 Ryan Storrie was in Scotland to celebrate his 40th birthday with a trip to a Rangers match when he fell ill.
The father-of-two was from Ardrossan but lived in Dubai.
When he developed symptoms, the asthmatic isolated in his hotel room and waited for the virus to run its course.
His condition deteriorated but he wouldn't let his wife, Hilary, phone 999 as he was convinced he would recover and didn't want to bother the NHS.
She found him dead in his room on 31 March.
'Ryan was the last person I expected to die'
Lord Gordon of Strathblane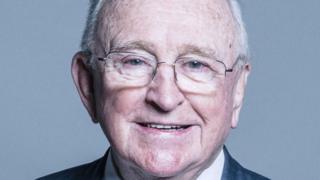 Lord Gordon of Strathblane was a former political editor of STV and he founded Radio Clyde.
He died at Glasgow Royal Infirmary on 31 March after contracting coronavirus, Radio Clyde reported. He was 83.
His family paid tribute to his "generosity, his kindness and his enthusiasm for life".
Former First Minister Jack McConnell said Lord Gordon had "an outstanding career in business and public service".
Labour peer dies 'after contracting coronavirus'
Catherine Sweeney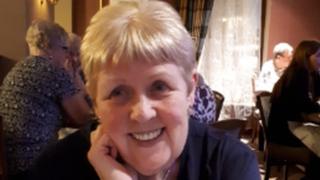 Catherine Sweeney was a "wonderful mother, sister and beloved aunty", her family said after her death on 4 April.
Born and raised in Dumbarton, she worked as a home carer for more than 20 years.
Her family said she would be sorely missed after a "lifetime of service" to the community.
And they praised the medics at the Royal Alexandra Hospital in Paisley who "heroically" looked after her in her final days.
Carer was 'dedicated to the most vulnerable'
Mofizul Islam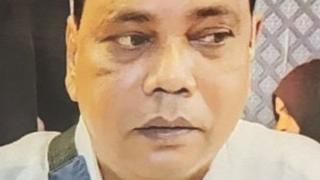 Mofizul Islam was beginning a new life in Scotland after relocating from Bangladesh when he fell ill with coronavirus.
His family believe the 49-year-old caught the virus on his daily three-hour journeys between their Edinburgh home and his job at a pizza outlet in Midlothian.
He died on 5 April and was buried in the Muslim section of a city cemetery but his wife and children were in isolation and unable to attend.
His death has left the family "completely helpless", according to a family friend as they have no documents, no bank account and they are struggling for money.
"We are very worried about our future because we don't have our father," said Mofizul's 19-year-old son, Azahural. "He was everything for us. And now we are just hopeless."
Family 'helpless' after father's coronavirus death
Rita Hawthorn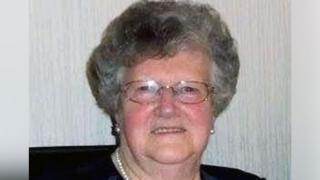 Rita Hawthorn spent the first 35 years of her life in Hamilton, where she was born, grew up and had her own family.
But when her husband, Robert, lost his job as a miner the couple and their three children re-located from the west of Scotland to the far north in 1973.
While Robert took up a new job at the Scottish Instruments Factory in Wick, she worked as a cleaner at a nearby job centre and became secretary of the Highlands and Islands Civil Service Union.
She was sadly widowed at 51 but she was "fiercely independent" and went on to fulfil her dreams of travelling – a trip up the Nile, a safari in South Africa, and solo bus tours to Austria and Paris.
Rita, who was a mother, grandmother and great-grandmother, fell ill during the first week of lockdown. She died at Caithness General Hospital on 6 April, aged 82.
Andy Wyness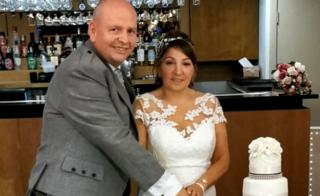 Newly-wed Andy Wyness developed a high temperature and a cough following a trip to Wales.
When his symptoms worsened the 53-year-old drove himself from his Wishaw home to an appointment at an assessment centre.
That was the last time his wife, Sandra, saw him.
The grandfather, who was a keen bowler, was taken straight to hospital by ambulance. He died on 6 April.
"Even walking out the house that night, although I knew he wasn't well, I never imagined he would never walk back in," Sandra said.
My husband went to the doctor and never came back
Janice Graham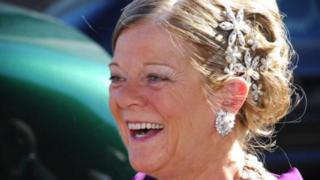 Janice Graham was the first NHS worker to die with coronavirus in Scotland.
The health care support worker and district nurse died at Inverclyde Royal Hospital on 6 April.
One colleague said she had a "bright and engaging personality and razor sharp wit".
Another said the 58-year-old was the "most kind, caring and compassionate HCA I have had the privilege to work with".
Her son, Craig, told STV News he would miss everything about her.
Nurse remembered for her 'kindness and compassion'
Maureen and Vic Sharp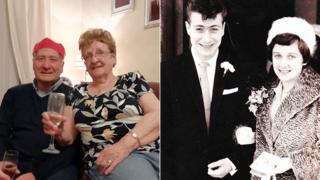 Vic and Maureen Sharp, who were both 74, had been together since they were teenagers.
Underlying health conditions meant the couple from Oakley in Fife were both asked to shield themselves during lockdown.
But their daughter, Yvonne Sharp, believes the letter came too late and they caught the virus during a weekly trip to the supermarket.
Maureen died in hospital on 8 April and then, Yvonne said, her father "just gave up". He died the following day.
Only six members of the family could attend their funeral but a piper led the funeral cortege through Oakley, where locals lined the streets.
Lockdown causing 'acute grief' for bereaved
Mary Martin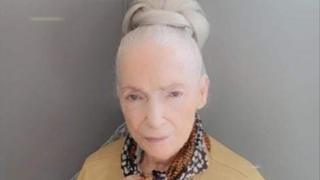 Mary Martin and her husband, Alex, were keen ballroom dancers.
Although their roots were firmly in Glasgow, they spent seven years in Dunblane where they were tasked with encouraging people on to the dancefloor at the Dunblane Hydro.
Before that, Mrs Martin brought up her family in Mount Vernon, later moving to Bearsden. She had three children, six grandchildren, three great-grandchildren and a great-great grandchild.
Her daughter, Sandra O'Neill, told BBC Scotland she was "just a wonderful person – gentle and kind".
In her later years she had vascular dementia and she lived at the Almond Court care home in Drumchapel. She died there on 8 April, aged 88.
Helen McMillan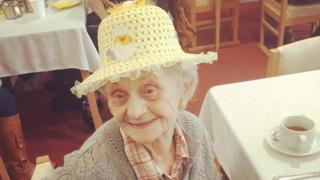 Helen McMillan was 10 days short of her 85th birthday when she died at Almond Court care home in Glasgow's Drumchapel on 9 April.
She spent most of her life in Summerston, where she widely known as "Auntie Ellen" – even to those she wasn't related to.
"Everybody loved my mum," her daughter, Jackie Marlow, told BBC Scotland. "She knew everybody in the community and was the life and soul of the party."
Helen worked in McLellan's rubber factory in Maryhill until she was in her 50s.
A grandmother to Hayley and Josh, she developed dementia in later life but she was still "pretty agile and loving life", her daughter said.
Gerry McHugh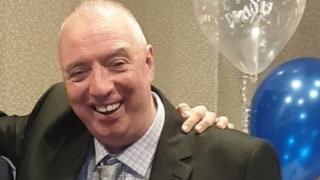 Maths teacher Gerry McHugh was a "true gentleman", able to inspire every single student who walked through his door.
His death would have a "devastating effect" on the Notre Dame High School community in Greenock, head teacher Katie Couttie said.
Unable to attend his funeral due to the lockdown, past and current pupils found a unique way to pay tribute to the 58-year-old.
They wore red and posted images on social media in memory of the lifelong Manchester United fan.
He died on 11 April.
Pupils find safe way to honour much-loved teacher
Bill Campbell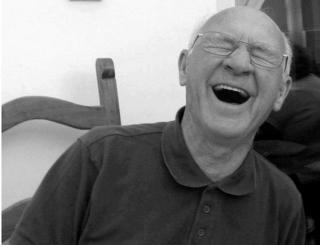 Former Merchant Navy engineer Bill Campbell died of suspected Covid-19 at Erskine Park care home in Bishopton.
The 86-year-old had dementia and carers initially thought he had a chest infection but he developed a cough and a high temperature.
His condition deteriorated and he died on Easter Sunday, with his daughter, Linda Verlaque – in full protective clothing – by his side.
She praised the work of carers at the home but she said his death was "horrific" as undertakers came to take away his body in full hazmat gear and goggles.
"Instead of having people surrounding me and giving me a hug to say everything was all right, everyone was just standing there and we were watching my dad being taken away, which was traumatic," she said.
Dad's virus death in care home was 'traumatic'
Derek Wilkie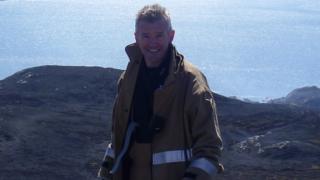 Derek Wilkie worked for 27 years as a firefighter before retiring in December 2017.
He had senior roles in Badenoch and Strathspey, and Shetland before becoming station commander for Inverness and Nairn District.
Colleagues said he was a "diligent and capable firefighter… with a larger than life personality".
His wife and two sons – who all work for the NHS – thanked those who cared for Mr Wilkie and urged people to stay at home.
He died at Raigmore Hospital in Inverness on 12 April.
Ex-firefighter dies after contracting Covid-19
Anne Duncan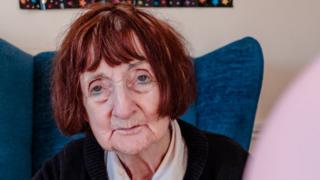 Anne Duncan contracted coronavirus in Letham Park care home in Edinburgh.
Her daughter Linda, a lawyer for the BBC, had hoped she would survive the virus as she was from "strong stock".
She last saw her mother in March when she travelled from London to warn her they may not be able to visit her during the pandemic.
The pensioner had been "extremely distressed" afterwards, Ms Duncan said.
She was taken to Edinburgh's Western General Hospital on 12 April and died three days later.
Care home death 'hard to process' for family
David Whittick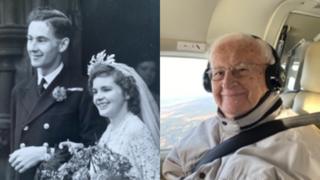 David Whittick joined the Royal Navy as a pilot on his 18th birthday in the midst of World War Two. Aged 19, as part of 835 Naval Air Squadron, he was flying off aircraft carrier HMS Nairana in the Arctic.
Almost 70 years later he received the Arctic Star for his role in Arctic Convoys – described by Sir Winston Churchill as "the worst journey in the world".
He survived two serious accidents during his long civilian career with Scottish Airways and later British Airways, before dedicating himself to supporting the Riding for the Disabled charity in his retirement.
His work – including helping to raise funds for a purpose-built facility at Summerston in Glasgow – led to him being appointed an OBE by the Queen for his services to charity.
He was married to Joyce for more than 60 years and they had four children. His son, Peter, said he lived a full and active life, even enjoying a trip on a seaplane in January this year. He died at Erskine care home in Bishopton on 14 April, aged 95, after falling ill with coronavirus.
Mary McCann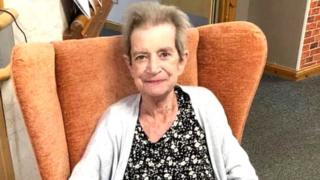 Mary McCann, 70, was a "strong, wonderful woman" who was dedicated to her family, according to her son, David.
She spent the last three months of her life in an East Kilbride care home, having being diagnosed with cancer last year.
The grandmother was doing well in the Whitehills home, where she was putting on weight and smiling again, David said.
But in early April she developed a urinary tract infection. Her condition deteriorated quickly and within days she was struggling to breathe.
She died in the care home on 16 April with her son, Derek, by her side.
'Mum was doing well, then came this crazy disease'
Jane Murphy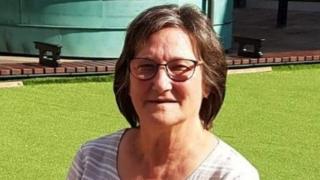 Jane Murphy was known as "Mama Murphy" by close friends and colleagues at Edinburgh Royal Infirmary.
She worked at the city hospital for almost 30 years, first as a cleaner before retraining as a clinical support worker.
The 73-year-old, from Bonnyrigg, was placed on sick leave due to her age when the pandemic broke out.
It's understood the mother-of-two died on 16 April.
Her friend Gerry Taylor said: "She wasn't afraid to tell nurses, doctors or consultants if they were not pulling their weight and they loved her for it."
Edinburgh NHS worker dies with Covid-19
Evelyn Brown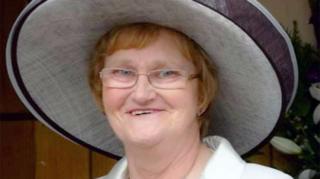 Evelyn Brown dedicated her life to her family and her community. Born and bred in Peterhead, she was married to Charles for 50 years and they had two children.
She gave up her job as a bank manager to care for her son Craig after he was born with Down's syndrome in the 1970s.
Her daughter Emma, who was born two years later, said her mother was a selfless woman who loved spoiling her grandchildren with "gifts and love".
Mrs Brown was an adult Guide leader and later a district commissioner, she volunteered with Barnardo's and was an active member of the Church of Scotland.
After her death at Aberdeen Royal Infirmary on 19 April, aged 75, her family raised £3,000 in her name for the hospital's staff garden.
Kirsty Jones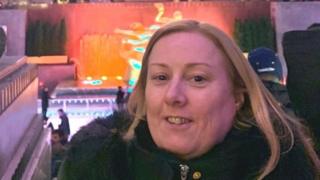 Kirsty Jones, a healthcare support worker with NHS Lanarkshire, was a bubbly, larger than life character, according to her colleagues.
She joined the health board after leaving school at 17 and spent much of her career working with older patients.
But the 41-year-old recently took up a role on the frontline of the pandemic, working at an assessment centre in Airdrie.
Her husband, Nigel, said she devoted her life to caring for others and was a wonderful wife and mother to their two sons.
She died on 20 April.
'Bubbly' healthcare worker dies from coronavirus
Angie Cunningham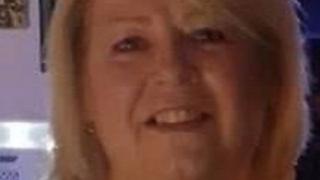 Angie Cunningham worked for NHS Borders for more than 30 years before her death.
The 60-year-old from Tweedbank was a much-respected and valued colleague who provided "amazing care" to her patients, the health board said.
As well as being a much-loved mother, sister, granny and great-granny, she was proud to be a nurse, her family added.
She died in the intensive care unit at Borders General Hospital from Covid-19 on 22 April, NHS Borders confirmed.
Nurse dies in hospital after contracting coronavirus
David Allan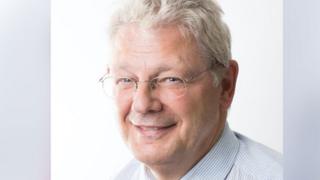 David Allan joined a local running club in Edinburgh in retirement, after spending 36 years as a science technician at the city's Trinity Academy.
The fit and healthy 64-year-old was training for a half marathon and was planning to take part in some Park Runs in Sydney during a trip to visit his nephew in Australia this year.
When the holiday – including a trip to Fiji – was cancelled due to coronavirus restrictions, David was pragmatic and told his wife, Glenda, they could rearrange for a later date.
It was a shock when he tested positive for Covid-19 after being admitted to hospital with a chest infection. He died on 24 April after more than four weeks in ICU.
Glenda took comfort from the funeral, when neighbours lined the streets, running club friends and former colleagues stood outside the crematorium, and hundreds watched the service online.
Gordon Reid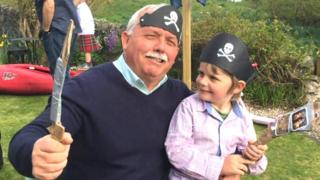 Known to all as Gogs, Gordon Reid was a taxi driver from Edinburgh who loved football, played golf, enjoyed a pint and doted on his grandchildren.
He stopped working as a precaution four days before the lockdown came into force but within a week had fallen ill with Covid-19.
His wife, Elaine, and daughter Leemo Goudie, were able to spend some time with him in Edinburgh Royal Infirmary before he died on 24 April, aged 68.
Leemo said: "My dad was a normal guy, no health issues, a non-smoker, fairly fit. It can happen to anyone."
As only a small number of mourners could attend his funeral, people stood and applauded as his hearse passed some of his favourite places in the city.
The coronavirus funerals 'ringing with applause'
Pearl Paterson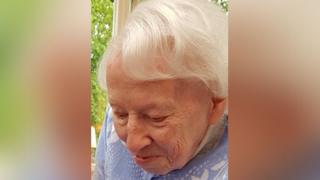 Pearl Paterson grew up in Dennistoun in the east end of Glasgow and was just 10 years old when World War II broke out.
She was a teenager when she joined the Women's Land Army but it wasn't until she was in her 80s that she received official recognition – and a badge – for her efforts from the UK government.
Pearl spent much of her working life employed as a domestic assistant in hotels across Scotland, before settling in Largs, Ayrshire, with her daughter, Fiona.
An animal lover, she had a special Chihuahua called Flash, and she read the People's Friend magazine every week.
On her 91st birthday in March, her family was able wave to her in the conservatory at her care home in Glasgow. She died with Covid-19 on 26 April.
Alastair Sinclair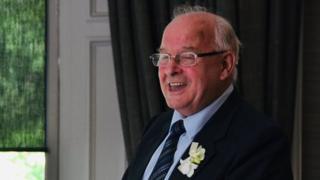 Alastair Sinclair split his younger years between Reay in Caithness and Lanark before being called up for national service.
But his army career was cut short when he stood on a mine in Korea and lost a foot.
His son told BBC Scotland that he was persuaded to pursue a career in developing artificial limbs as he was being fitted for his own prosthetic.
In retirement, the father-of-three moved with his wife from Newtown Mearns in East Renfrewshire to Wishaw in North Lanarkshire.
He moved into Erskine Park care home in Bishopton shortly before lockdown and died, aged 87, five weeks later on 27 April.
Karen Hutton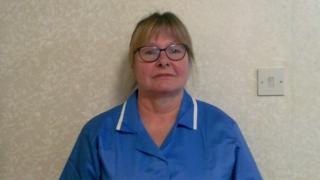 Karen Hutton was a "much-loved" care home nurse who died with coronavirus days after her granddaughter was born.
The 58-year-old was a staff nurse in the dementia unit at Lochleven Care Home in Broughty Ferry, Dundee.
Her only daughter, Lauren, gave birth to a girl just two weeks ago, according to care home operators Thistle Healthcare.
Care home manager Andrew Chalmers-Gall said: "Karen was a tenacious advocate for her residents and she always put their needs first."
She died at home in Carnoustie, Angus, on 28 April after testing positive for Covid-19.
Robert Black
Robert Black was a paramedic but he was also a talented musician and part of the team behind Argyll FM.
Paying tribute to him on social media, the community radio station said he was "a genuine good guy… everyone was his pal".
The Mull of Kintyre Music Festival described him as "one of our pals" and a "true gent, wonderful musician".
He was a well-known and loved character in Campbeltown, according to Kintyre Community Resilience Group.
The father-of-two died in hospital in Glasgow on 2 May.
Paramedic dies after contracting Covid-19
Paul McCaffrey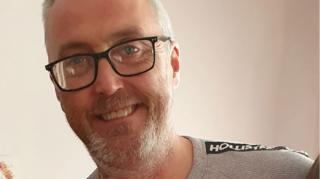 Paul McCaffrey was an "amazing dad" of two children and two step-children who was always busy, according to his partner Caroline McNultry.
"He was always helping someone, whether he was in someone's house helping them out or just on-the-go in work all the time," she said.
The healthy 49-year-old from Glasgow fell ill after returning home from work at a care home where he was a highly-regarded maintenance manager.
Rather than the traditional coronavirus symptoms, he complained of a headache and aching limbs but he was eventually admitted to hospital in Glasgow where he tested positive for Covid-19.
He was transferred to Aberdeen Royal Infirmary where he could be hooked up to an ECMO machine, which performs the tasks of the lungs. After three weeks, he died on 4 May.
John Angus Gordon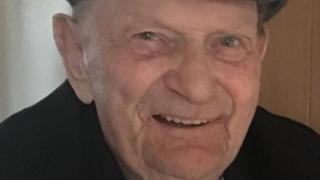 John Angus Gordon, 83, spent the last few years of his life at the Home Farm care home in Portree on Skye.
He had dementia and the sense of touch reassured him – he liked to shake a hand or hold the hand of the person he was talking to.
Unable to visit the home, his family spoke to him for the last time in a video-call a few hours before he died on 5 May.
As he listened to their voices, he reached out to the hand of the carer sitting with him, dressed in full personal protective equipment.
"We found it quite poignant that my dad put out his hand to hers and she was wearing these blue protective gloves," said his son, John.
Son's grief at not being at father's bedside
Ina Beaton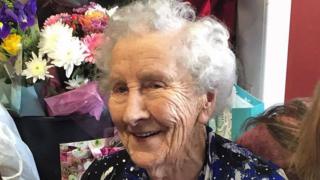 Ina Beaton was a well-known figure on the Isle of Skye and she lived in her own home in Balmaqueen until two years ago.
She died on 11 May aged 103, the seventh resident of Home Farm care home in Portree to die after contracting Covid-19.
Ina lived through the Great War and the 1919 Spanish Flu outbreak. During World War Two she moved to Glasgow to work as a conductress on the trams and survived the Clydebank blitz.
Her grandson, Ailean Beaton, said his loss was shared across the island, especially the north end "where she was mum, granny, friend to more than just the Beatons.
"Her crystal memory and broad experience of life in Skye over several generations meant that she contributed to our shared knowledge of the place we're from, its language and culture," he added.
John Morrison Brown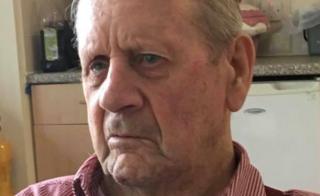 Retired farmer Jock Brown was a keen ice hockey player in his youth, and he represented Scotland for six years in the 1950s.
He told his family that he was selected for the team because he was the only Scotsman who played as goal tender (goalkeeper) at the time. They insist this is not true.
Married to Mary for 48 years, they had two children and four grandchildren.
He farmed near Falkirk – on land next to what is now home to The Kelpies – until his retirement in the 1980s.
Mr Brown's family said he was a quiet man with a great sense of humour. He had dementia and he died with Covid-19 at Burnbrae care home in Falkirk on 14 May. He was 89.
George Cairns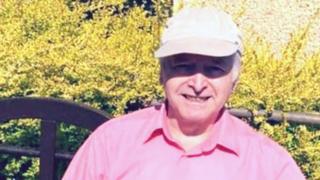 Former ambulance technician George Cairns was a resident at LittleInch Care Home in Inchinnan, Renfrewshire.
His family said the move from his Renfrew flat to the home in January had reinvigorated him and brought out his mischievous sense of humour.
During the lockdown period Mr Cairns, who was bipolar, even joked about topping up his tan in the garden.
The 71-year-old tested positive for Covid-19 on 8 May despite displaying no symptoms, but his condition deteriorated and he died in the Royal Alexandra Hospital in Paisley nine days later.
His daughter, Gillian, paid tribute to his caring nature, saying: "Even if you only met him once he would tell you a story, a terrible joke or offer a supportive ear when you needed it the most."

Send us your tributes
If you would like to pay tribute to someone you have lost, please fill in the form below and use the link provided to upload a picture of them. We would like to respond to everyone individually and include all of your tributes in our coverage, but unfortunately that may not always be possible. Please be assured your message will be read and treated with the utmost respect, and your words and tributes will be used with your name and location where possible.
If you can, please upload a photo of your loved one and include their name: Upload your pictures here
Please note the contact details you provide will never be published. Please ensure you have read our terms & conditions and privacy policy.
.