The culture secretary has defended students going back to university in England after a union labelled the situation "shambolic".
Oliver Dowden told the Andrew Marr Show it was important students did not "give up a year of their life" by not going.
Labour has called on the government to consider pausing the return after Covid outbreaks meant thousands of students had to isolate in their accommodation.
A scientist who advises the government said the situation was "inevitable".
Mr Dowden said: "Young people have paid a huge price during this crisis and I think it is only fair to try and get them back – we have got clear guidelines for them to follow."
It comes as the UK recorded a further 5,693 cases and 17 deaths within 28 days of a positive test.
The number of deaths recorded over the weekend tends to be lower than during the week because of reporting delays.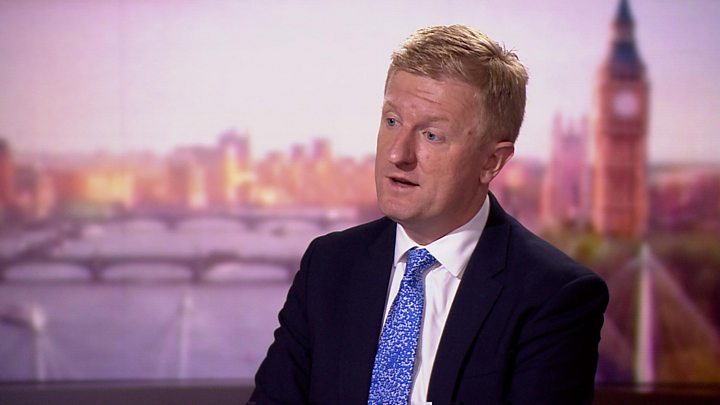 Prof Mark Woolhouse, who sits on the government's pandemic modelling group SPI-M, said the situation was "entirely predictable" and had been modelled.
He said students were not to blame for the outbreaks and with students converging from around the country it was "inevitable there would be some spread".
Modelling showed the risk areas were first-year halls of residence and face-to-face teaching, he said.
Meanwhile, three more Welsh counties are to face tighter coronavirus restrictions on Monday – which will mean almost two-thirds of the Welsh population will be under local lockdowns.
Students have been told to isolate in their accommodation at several universities in England and Scotland, including around 1,700 students at Manchester Metropolitan University – where students said they were being prevented from leaving by security guards and police.
Ellie Jackson, a first-year at Manchester Met, said: "We knew it would be different but we didn't think it would be this different.
"We've been told, if we leave, we can't come back."
Fellow student Jaimick Shah said his flatmates had all tested negative but still had to isolate. "We're struggling to get food because everyone is trying to order it at the same time," he said.
Manchester Met said it had communicated with students "as soon as we could but it was not possible to give significant advanced notice due to the requirement to implement the isolation almost immediately".
The university said it was "urgently preparing a care package" and financial support for affected students to ensure they had the essentials they needed.
The local University and College Union branch said it had raised concerns that "the mass return of students would inevitably see institutions become Covid incubators" – but it said these warnings went unheeded.
In Scotland there are outbreaks at the University of Glasgow, where 600 students have been isolating, as well as at universities in Dundee, Edinburgh and Aberdeen.
Coronavirus restrictions in Scotland currently ban people from visiting other households in their home – meaning students cannot return home to another address in Scotland from university accommodation for a short stay without a reasonable excuse, such as a family emergency.
However, new guidance issued by the Scottish government clarifies that students can return home on a long-term basis.
Students who have been told to self-isolate can return home if they need support to do so, including physical, financial or mental health support.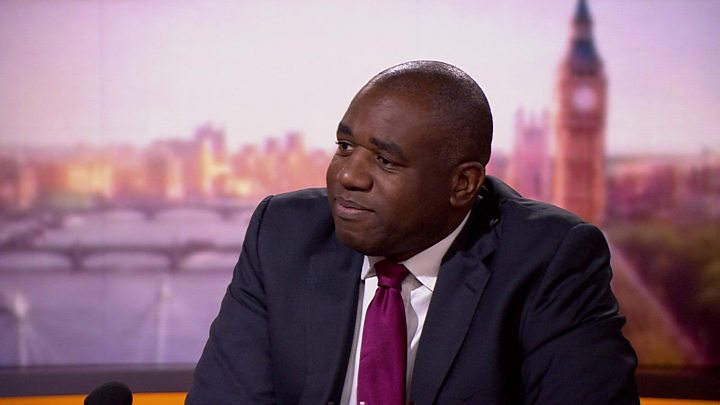 Some students have questioned why they were told to return to their university accommodation when most of their teaching is being done remotely – and why they are still required to pay full tuition fees.
Mr Dowden said students' experience at the start of this term was "not as it would be" due to the crisis, but that they should still pay tuition fees as they were being taught.
Asked by Andrew Marr if students should get their fees back, Mr Lammy said: "It's clear that there are actually lots of universities struggling financially so there's a balance here to be struck. Many of us have gone online, the key now is to get students online successfully and for them to have face-to-face [tuition] where it is safe to do so."
Labour's shadow education secretary Kate Green told BBC Breakfast the government should consider pausing the start of term while an "effective, efficient testing system" was put in place, with students given a choice of learning from home if they felt safer there.
Larissa Kennedy, president of the National Union of Students, said the union had "long called for online learning to be the default".
"If [students'] quality of learning is severely impacted then we also need to see tuition fees reimbursed," she said.
She said students should be able to be released from rental contracts at their university accommodation and receive rent rebates so they could remain at home if they wished.
"We must remember this is happening because the government and universities told students to return to campus and this shambolic situation now demands flexibility," the union said.
Thousands more students in England are turning up for the new university term this weekend – but the big question is whether they should be heading in the opposite direction and studying from home.
Is it wise or fair for universities to bring students back if they're at increasing risk of being in a Covid outbreak and having to self-isolate?
Accommodation blocks, with shared facilities and filled with young people wanting to socialise, have already seen a wave of outbreaks. So should the brakes be applied to stop this pattern repeating itself?
After recruiting record numbers of students and promising them a mix of online and face-to-face teaching, it would be a very awkward U-turn for universities to switch back to the academic equivalent of working from home.
And would that mean refunds on accommodation and tuition fees?
There are likely to be some chaotic days ahead – and some big decisions to be made about whether to cut numbers on campus. And students must wonder how they've gone from being cooped up at home all summer to now being cooped up in university.
Meanwhile, it has emerged that Education Secretary Gavin Williamson and Health Secretary Matt Hancock wrote to directors of public health on Wednesday about the return of universities.
In the letter, tweeted by Sheffield's director of public health Greg Fell, ministers said they should formulate "a robust outbreak plan" in collaboration with higher education providers.
In the case of local restrictions, they said public health directors should ensure measures in response, such as closing some or all face-to-face learning "do not lead to a migration of students away from their term-time accommodation back to their family homes".
Are you a student? How are the rules affecting you? Share your experiences by emailing haveyoursay@bbc.co.uk.
Please include a contact number if you are willing to speak to a BBC journalist. You can also get in touch in the following ways: