Ireland's Katie Taylor produced a gutsy display to win a relentless rematch with Delfine Persoon and remain undisputed world lightweight champion.
Taylor boxed stylishly early on but was slowly forced into a battle by the non-stop pressure of her Belgian rival.
Persoon – dismayed by a points defeat 14 months earlier – barely stopped punching throughout and looked to be gaining significant momentum.
But Taylor won 98-93 96-94 96-94 and Persoon accepted the scoring this time.
"I think I broke my nose in the second round but I give respect to Katie – she deserves to win," said 35-year-old Persoon.
The grace with which Persoon accepted the defeat was perhaps surprising given how close some of the rounds were in a bout which lived up to all expectations.
"You can't relax against Delfine because she attacks all the time, it was such a tough fight and we've had two amazing fights for women's boxing but it was more convincing this time," Taylor told BBC Radio 5 Live.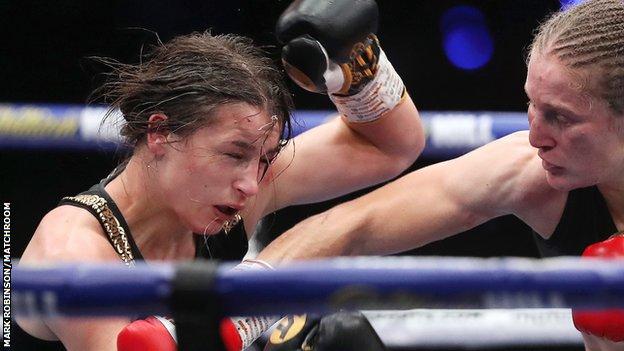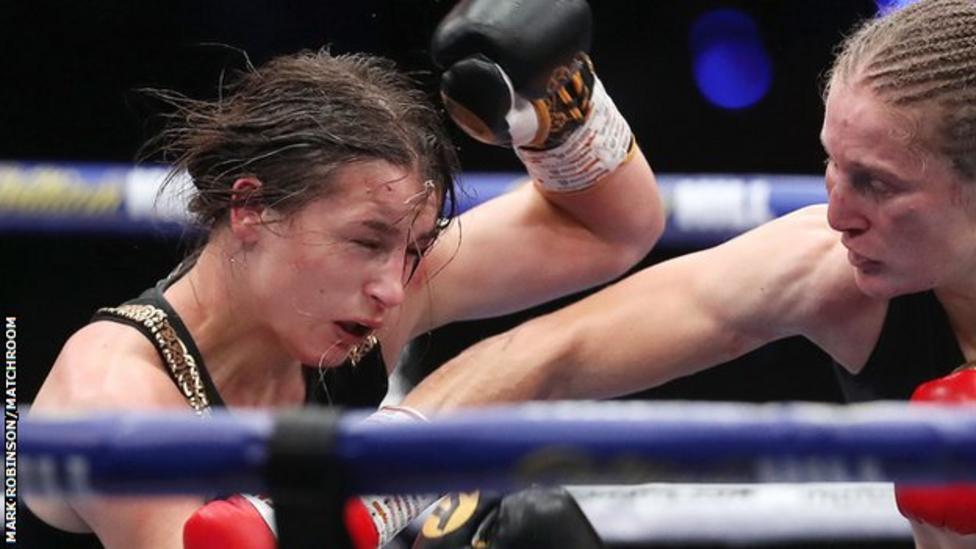 Some 14 months ago, Persoon took Taylor to depths she had previously never visited as a professional. The night ended with Taylor's arm raised, Persoon in tears and pundits up in arms at the scoring, yet unanimous in their praise for a truly stunning fight.
Madison Square Garden had been swapped for Essex and Eddie Hearn's childhood back garden but the obscure surroundings brought on by enforced Covid-19 rules could not slow either woman as they picked up where they left off in New York.
Taylor boxed and moved early on to negate the pressure and Persoon – a policewoman in her homeland – was soon heavily marked under her right eye.
When space opened between the pair, Taylor's class as an Olympic gold medallist shone. But Persoon constantly smothered, took the fight up close and punched endlessly.
Taylor said she would not be tempted into a brawl. She wasn't, she was forced into one by the pressure and awkward fighting style her opponent once again brought.
"Keep your composure," Taylor's manager shouted in the seventh. By the end of the round his fighter sported a heavy swelling on her forehead and pundits pointed to the title being up for grabs in a contest so tight.
Both could be heard breathing heavily on their stools before the final round and Taylor did find well-picked, accurate shots while under fire in the closing stages.
Where she goes now is up to her. The financial constraints the Covid-19 pandemic places on making the most lucrative fights remains an ongoing issue.
But she remains the face of women's boxing globally and the special fighter her rivals dream of beating. An Olympic champion, a two-weight world champion and the holder of all four titles at 135lbs, she has little left to prove.
This dogged win only serves to show how hard she will be to overcome. The champion remains a truly formidable force.
'Ireland's greatest and the debate is done'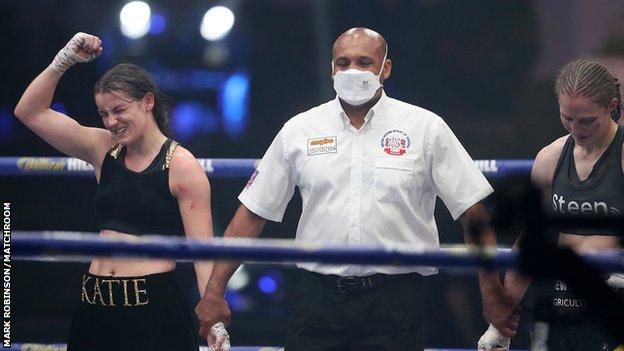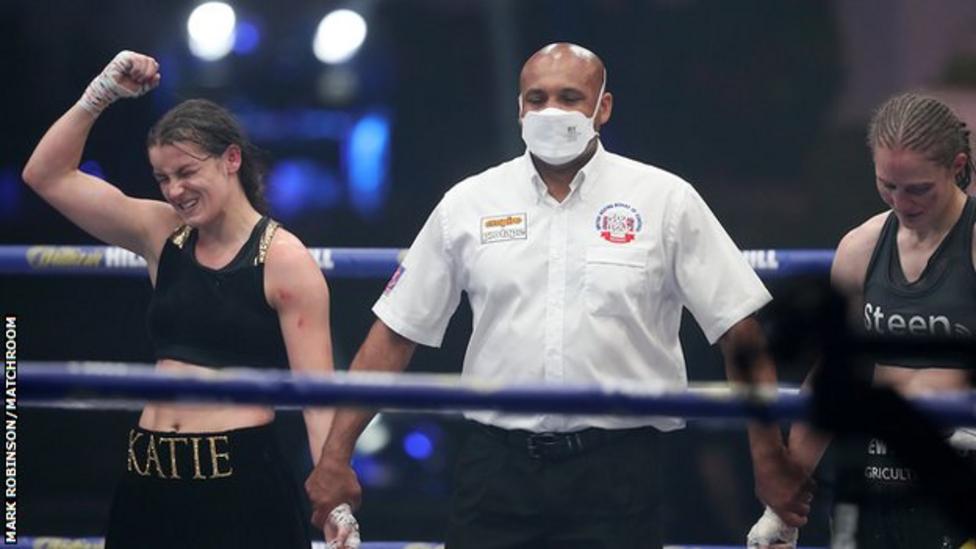 Former world middleweight champion Andy Lee on BBC Radio 5 Live: It was closer than it really should have been but Katie's won the rematch and that debate is now done.
Persoon can be at peace knowing she has lost to the better boxer. Katie keeps going from strength to strength, I don't know what happens next and where she goes from here.
BBC Radio 5 Live boxing analyst Steve Bunce: Persoon's cut and swollen under one eye, Taylor has a lump above her eye.
Taylor's lump is enormous, like half a tennis ball, but that's what happens when you have fights like that and you give everything you have.